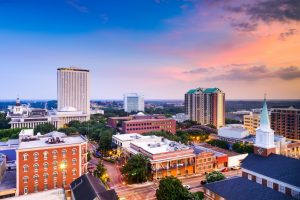 Why Open a Franchise in Tallahassee?
Are you looking for the chance to own your own business? Do you want to be your own boss, but you don't want to take the risk of starting a business from the ground up? Are you a hard worker with an entrepreneurial spirit?
If you answered yes, Nerds On Site is looking for you to open our newest franchise in Tallahassee, Florida!
Tallahassee's strong economy makes it a great location for a technology services franchise like Nerds On Site. Additionally, your Tallahassee franchise will be able to benefit from the combination of stable economic conditions and an invaluable network of business resources.
If you are ready to take the leap and become your own boss, keep reading to learn why opening a Nerds On Site franchise in Tallahassee is the way to make that happen.
Strong Local Economy
As you are preparing to start your Tallahassee franchise, it is important to be familiar with the economic realities of the city. The great news is that Tallahassee has an economy worth boasting about.
In the three biggest economic indicators—unemployment, current job growth, and future job growth—Tallahassee outperforms the national average every time:
Unemployment rate in Tallahassee is 5.1%, compared to the national average of 6.3%
Current job growth rate in Tallahassee is 2.34%, compared to the national average of 1.18%
Projected future job growth in Tallahassee is 39.6%, compared to the national average of 36.1%

In addition to these favorable numbers, Tallahassee has a history of being a top performer in technology. Once called "Silicon Valley South," Tallahassee has long been on the front lines of technological development in the United States.

Your Tallahassee franchise will benefit from this favorable location at the center of technological development in Florida, especially as you hire qualified employees and managers. The experienced and educated tech professionals that already exist in Tallahassee will be a great boon to your business.

Resources for Business Owners

In an effort to attract and encourage small businesses to Tallahassee, the city has invested time and money into a Small Business Development Center, or SBDC. The SBDC can provide your Tallahassee franchise with invaluable assistance.

You can utilize the experts at the SBDC to gain advice and insight into doing business in the city. Additionally, the SBDC has access to huge databases of research and demographic information, all of which can help your Tallahassee franchise.

Additionally, the SBDC offers training classes and seminars that you can use to improve your skills as a business owner, learning about topics including:

Marketing
Accounting
Bookkeeping
Financing
Taxes

The resources available through the SBDC can prove invaluable when you open and expand your Tallahassee franchise.

The time to invest in Tallahassee is now. The city's strong economy and useful business resources make it a great place for a technology services franchise. Indeed, this Nerds On Site franchise opportunity in Tallahassee is so good it surely won't last long.

Click this LINK if you are ready to be your own boss and open a Nerds On Site franchise in Tallahassee!

Sources

http://www.bestplaces.net/economy/city/florida/tallahassee
http://www.sbdcfamu.org/