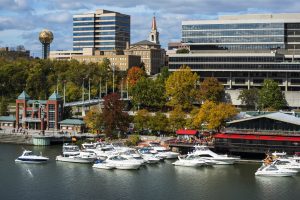 Why Invest in a Knoxville Franchise?
If you are looking for a franchise opportunity in Knoxville, Tennessee, look no further than Nerds On Site! We are looking for someone ambitious, passionate, and hard working to open our newest franchise in Knoxville.
Knoxville is an amazing location for a franchise, with its strong economy and valuable business support network. Your Knoxville franchise will have all the tools it needs to thrive when you open up in that exciting city.
If you are ready to be your own boss, keep reading to learn why opening a Nerds On Site franchise in Knoxville is the way to make it happen!
Strong Economy
The economy in Knoxville is one of its strong points. Your Nerds On Site franchise will benefit from the city's low cost of doing business, low cost of living, and low cost of housing.
Additionally, Knoxville is centrally located so your Nerds On Site crew can easily get to your clients' homes and businesses. Your Knoxville franchise will provide the essential service of traveling IT solutions, so the central location of this city is a great advantage to your business.
Business Support Network
When you open a franchise in Knoxville, you will have access to a range of business support resources that can help you get started and continue to operate your business successfully. The East Tennessee Economic Development Agency, or ETEDA, is dedicated to offering resources that small businesses need.
ETEDA helps franchises in Knoxville with a wide variety of aspects of business ownership, including:
Advising
Market research
Information packages
Real estate
Wage and salary data
ETEDA can be an invaluable resource as you open, operate, and grow your franchise in Knoxville.
This franchise opportunity is too good to pass up! Learn more about opening a Nerds On Site franchise in Knoxville by clicking here, and get started right away!
Sources
http://www.eteda.org/
http://www.forbes.com/places/tn/knoxville/